Using one of the best standing desks can make a real difference when it comes to your productivity as you'll be able to move around throughout the day and there are also obvious health benefits from being able to stand while working. However, as a standing desk can be a big investment, you'll want to ensure you do your research first as opposed to buying one on a whim or just because it's on sale.
Throughout the course of last year, I tested a dozen standing desks and based on my own experience, I can say I have a good idea of what you should and shouldn't look for when buying a standing desk. Sure, you can save a few bucks by opting for a manual standing desk or choosing a different desktop but at the end of the day, you want a desk that you can use for years to come.
If you're in the market for your first standing desk or just want to upgrade from one of the best desks, these are four features you shouldn't overlook when making your final decision.
1. The keypad
Unless you go with a manual one, your standing desk will have a keypad that you'll use to raise and lower its height. However, not all keypads have the same features and there are even some that have USB ports for charging your smartphone and other devices.
Although you can go with a simple keypad that just has up and down arrows, I recommend getting one with a display so you'll be able to quickly adjust your desk to the right height. The keypads on most electric standing desks also allow you to switch from the imperial to the metric system depending on your preference.
Besides a display and up and down arrows, many keypads also feature numbered preset buttons that allow you to save your preferred sitting and standing heights. While two buttons are enough for this, most standing desk keypads now have four buttons. This way you can save several different height configurations or two people can use the same standing desk comfortably.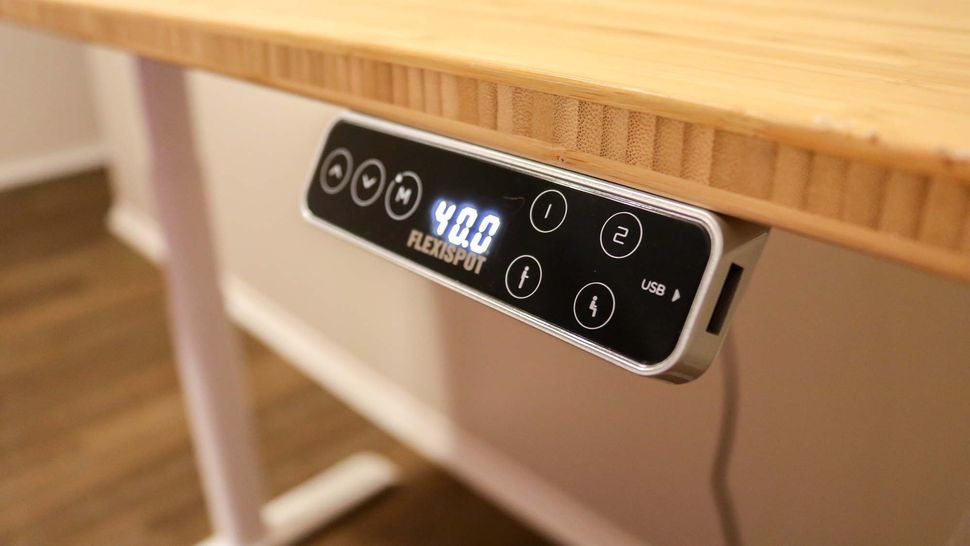 At the same time, many standing desk makers like Flexispot have begun to incorporate USB charging ports into their keypads. While the Kana Pro Bamboo only has one USB-A port, the company's EG8 Comhar packs in two as well as a USB-C port for those that need to charge multiple devices while working.
2. Grommets
If you plan on using your standing desk with one of the best laptops, then grommets – the small holes at the back of your desk – may not be necessary. However, if you're primarily a desktop user, then they are a must.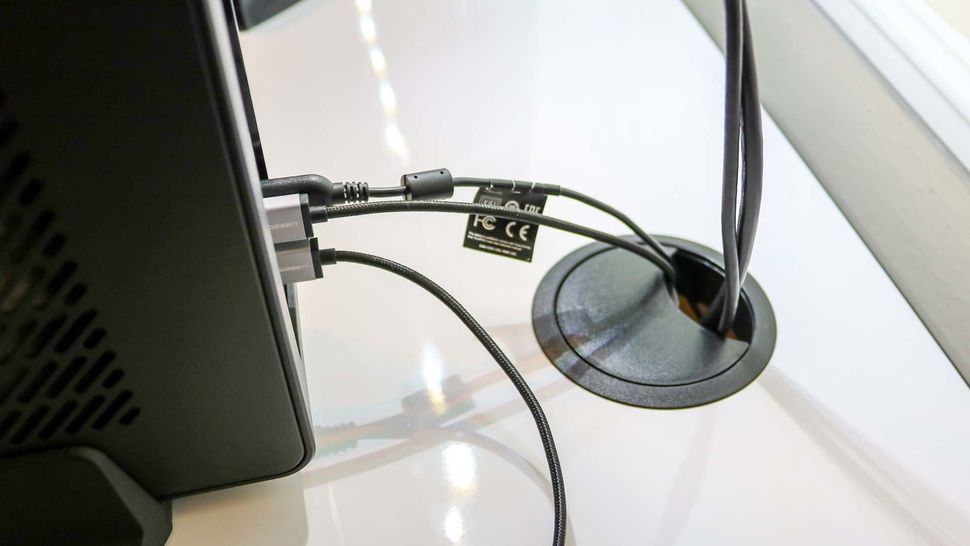 Instead of having cables running off the back of your desk, grommets allow you to run them under your desk. This way the cables going from your monitor to your computer and vice versa are neat, tidy and together in the same place. Cable ties can help you keep them even more organized but grommets provide the perfect starting point when putting together a great desk setup.
Likewise, grommets can also be used for storage. For instance, with the Uplift V2 from UPLIFT Desk, you can choose standard grommet covers but you can also get power grommets with an AC plug or even storage grommets to hold your flash drives and other accessories.
3. Dual motors