Prepare yourself — because today's Wordle answer is a difficult one. The NYT's WordleBot tool says people are solving it in 4.6 guesses on average, which is super-high and in fact the worst we've had in two weeks. Even using one of the best Wordle start words won't necessarily help you.
With that in mind, you might find some hints to be helpful; after all, a Wordle failure is only ever six guesses away. And plenty of people will find that out today!
I've played every Wordle so far and lost only once, so I've got plenty of Wordle tips and tricks to share. I've also analyzed every Wordle answer to look for patterns and have some further advice for you there. And if you're new to the game you should also take a look at my What is Wordle? guide.
Each day, I'll be updating this article with tips to help you find today's Wordle answer. And if the hints aren't enough, I'll even give you the solution, in case you're really stuck or just haven't had time to complete today's puzzle. I've also included my analysis of yesterday's puzzle, #433, in case you're reading this in a different time zone.
My first tip is that you should use one of the best Wordle start words for every game you play. But if you want some more specific clues to today's Wordle answer then here you go:
It contains two vowels*
It has one repeated letter
It ends with a very common ending letter
* By vowel I'm meaning A, E, I, O, U. There are other letters that are sometimes considered to be vowels, depending on how they are used.
Those hints should get you at least some of the way towards finding today's Wordle answer. If not, then you can read on for a bigger clue; or, if you just want to know the answer, then skip down further for that.
Alright then, here's my final hint: Today's Wordle answer is even more offensive
OK, it's time to scroll down for the answer…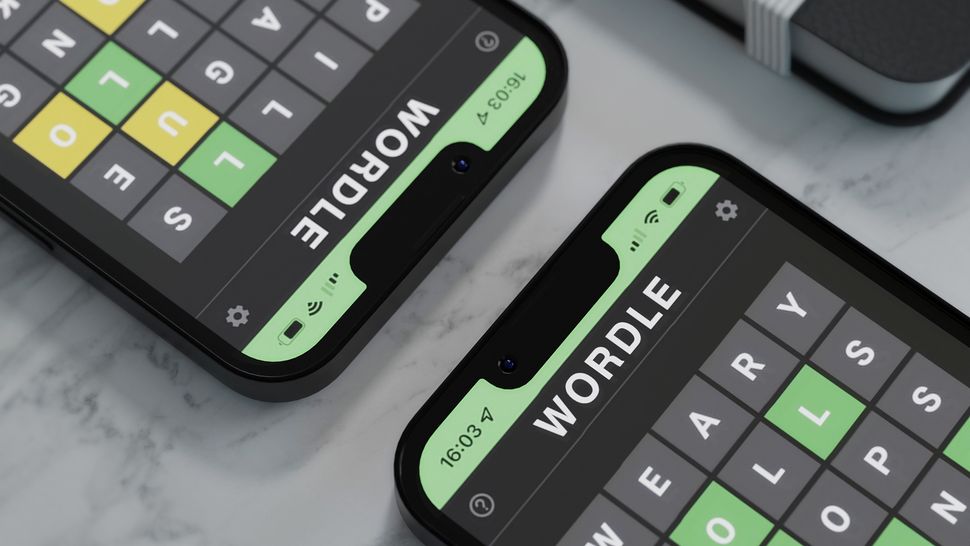 So, what is today's Wordle answer for game #434?
Drumroll please — it's RUDER.I warned at the top of the page that this was a difficult one, and it's easy to see why. For starters, it's an —ER word — a pattern which always leads to a high average score simply because there are so many possibilities. In fact, we've had 10 of these words since WordleBot started reporting averages — FEWER, FOYER, HOMER, GAMER, LOSER, SEVER, LIVER, POWER, POKER and now RUDER. Between them, they have an average score of 4.57 — against a typical average of about 4.1.
So they're difficult, then. And this one is arguably harder than some because a) it has a repeated R and b) it has a U as its first vowel, rather than the more common A, E, O or I. That's backed up by its average score of 4.6, which is slightly above the norm even for an ER answer.
U is not an uncommon letter in Wordle overall, as I show in my analysis of every Wordle answer, it ranks 11th in general, and is in fact seventh when used in position #2. But then again, E is first overall, A is second, O is fourth and I is seventh, and all are also more frequent in the second slot.
A repeated R is relatively common compared to most letters, meanwhile, but there are still only 60 of them in Wordle's 2,308 answers, so you wouldn't expect to get one more than every 40 games or so. We last had one in game #373, RETRO, so ever further back than that.
There are no other complications here — the letters are all generally common and it's a well known word. There are just so many possibilities that narrowing them down is a real ordeal.
For instance, my choice of start word, STARE, left me with a massive 180 possible solutions, according to WordleBot. Anyone using WordleBot's favorite starter, SLATE, had even more (329), while those of you playing CRANE had 250. The best of the common starting words today? TRADE (52), ROAST (43), REACT (40), RAISE (33), TRIED and CRIED (18) — although if you were fortunate enough to start with RATED you had just 4.
I decided to narrow down those options by playing an ER word right away, and pairing it with common letters. DONER seemed like a good bet and indeed WordleBot liked it, awarding me 89 for skill and declaring that I had "Impressive vocabulary." I'm not sure about that, but either way it confirmed the ending and gave me a yellow D.
Right away, this had cut my options from 180 to just nine, WordleBot said. I found eight myself, but one of mine, EIDER, wasn't in its list. I'd missed EDGER and HIDER — neither of which seem likely to be answers anyway — and we had seven words in common: ELDER, UDDER, RUDER, RIDER, WIDER, CIDER and IDLER.
I didn't want to just guess one of my eight options next, because I ran the risk of scoring a 6/6 or possibly failing, depending on what the answer was — there were still too many options.
So instead, I spent an interminable amount of time trying to find a word that would rule out all options and guarantee me a 4/6. I simply couldn't find one, though, and instead had to settle for a word that ruled out lots of answers rather than all of them.
RULER was my choice, because the R at the start would point the way to RUDER or RIDER, the U to RUDER or UDDER, and the L to ELDER or IDLER. If the answer had been CIDER, WIDER or EIDER I'd still have had a 1/3 chance — which could have left me with a 6/6 — but that was the best I could do.
WordleBot didn't agree, awarding me a paltry 75 and suggesting that GULCH would have been better. I can see why, because the inclusion of the C would have ruled in/out CIDER, while the G was in EDGER (which I didn't have) and the H in HIDER (ditto). But it didn't ultimately matter, because with the RU at the start of my guess turning green, I was left with just one answer anyway, namely RUDER.
This is a nice Wordle answer for several reasons. As a word, it's a good one, far more interesting than a boring noun such as yesterday's CLOWN, but more importantly for the purposes of the game, it has five common letters in generally common positions. That should again lead to some high scores today, with WordleBot reporting an average of 3.7 so far. That suggests it's a tiny bit harder than yesterday's, but I'd say it's arguably easier, depending on how you game plays out.
There's certainly no letter as uncommon as the W in CLOWN. As I show in my analysis of every Wordle answer, I is the seventh most common letter in the game, R is the third, O the fourth and N the ninth. The Y is only 12th, but it jumps up to second in terms of ending letters.
Anyone playing WordleBot's former choice of start word, CRANE, will have had a nice opening, with just 19 answers left to them. SAINT (3), CRONE (6) and TRAIN (11) all fared even better than that. My choice of STARE, and WordleBot's new favorite, SLATE, weren't so useful, with 122 and 305 options respectively — but even then, the right choice of second word could have helped greatly.
That's what happened with my guess, at least, because mine took me from 122 options to just one. I went with GROIN, reasoning that it used two more vowels (important, given that A and E were already ruled out) plus a very common N, while playing the yellow R in its most common position of second.
With the R and O turning green, and with the I and N going yellow, there were very few options left to me. Essentially, I had to find words that had the pattern IRON-, NRO-I or -RONI. I couldn't come up with any beyond IRONY, and that proved to be the answer.
So my second word had eliminated 121 possible solutions — a pretty great result and one that ultimately helped me on the way to another 3/6. A reminder, if it were needed, that however important your start word, your second guess often does even more of the hard work, so it's always worth taking a while to choose it.
PREVIOUS WORDLE ANSWERS
If you're looking for a list of older Wordle answers, we can also help. Here's a list going back 20 games.
Wordle #433: IRONY
Wordle #432: CLOWN
Wordle #431: NEEDY
Wordle #430: WOVEN
Wordle #429: MERIT
Wordle #428: WASTE
Wordle #427: TREAT
Wordle #426: SHRUG
Wordle #425: TWANG
Wordle #424: TWICE
Wordle #423: GRUEL
Wordle #422: POKER
Wordle #421: KHAKI
Wordle #420: HUNKY
Wordle #419: LABEL
Wordle #418: GLEAN
Wordle #417: CLING
Wordle #416: PATTY
Wordle #415: UNFIT
Wordle #414: SMEAR


WORDLE TIPS — HOW TO WIN AT WORDLE

The best tip I can give is to use one of the best Wordle start words. I can't stress this enough — it makes a massive difference.

Without one, you'll be scrabbling around in the dark trying (and possibly failing) to find the right five letters (or possibly fewer) out of the 26 possibles. But clever people (not me) have done the math and identified the best start words based on both frequency in English and frequency among Wordle answers. So use them!

Secondly, think about combinations, especially at the start and end. Some options are far more common than others — for instance, SH, ST, CR and CH all feature frequently.

Vowels obviously need consideration too: not all Wordle answers will contain more than one, but plenty do, and some even have three. A good Wordle start word should have used a couple, but if they don't feature you might well want to try another one or two on your next go.

Plus, remember the Y — this sometimes acts as a surrogate vowel, and is easy to forget. It also appears at the end of plenty of words.

Finally, try out possibilities. So long as you don't press 'Enter' you can try possible answers to see how they look on screen. Put in likely letters plus any you know are definitely in the word, then mentally change one to the other available options. This technique has worked for me multiple times, and it's particularly helpful when the word in question is not an obvious one (like FJORD or ISLET).

WHAT ELSE SHOULD I KNOW ABOUT WORDLE?

Wordle officially launched in October 2021, but actually started in June of that year and celebrated its first birthday on June 19, 2022. (You can read my thoughts on the 5 things Wordle needs to improve if it's to keep us playing for its second year.)

However, it only grew in popularity towards the end of the year, then went viral in January as the world woke up to its charms. In fact, it proved so successful that The New York Times bought Wordle for a seven-figure sum in early February and the game is now part of NYT Games.

It's played via the NYT Games website here(opens in new tab), and is entirely free. Both the NYT and the game's creator, Josh Wardle, have stated that it will remain free. Some people think that Wordle has got harder since the NYT takeover, but it really hasn't.

Wordle is a simple game in which your challenge is to guess a five-letter word in six attempts. Each time you guess, you're told which of your chosen letters are in the target word, and whether they are in the right place.

If a letter is in the correct place, it turns green. If it's in the word but in the wrong place, it turns yellow. And if it's not in the word at all, it turns gray.

There's just one puzzle a day, and everyone completes the same one. It resets at midnight each day. You'll find more information about the game in our What is Wordle? article.

WORDLE ALTERNATIVES

If you're eager for another game to pass the time while you wait, we've put together a list of the best Wordle alternatives. We also have a page on today's Quordle answers, because it's our favorite, and also today's Heardle answer — because that's great too.

Other Wordle alternatives to try are the ultra-stressful (but very good) Squabble and the soccer-themed, Who Are Ya?. We also like the geography-based Wordle clone Worldle, the Star Wars-themed SWordle and the math-based Mathler.

There are certainly plenty of options once you've finished Wordle for the day!